Applications utilizing the entrapment of living cells or other biomaterials in small biopolymer beads have found several uses. This includes implantation of alginate beads containing living cells which have been manipulated to excrete therapeutic substances for the treatment of human diseases. This principle may be used in the treatment of a variety of diseases including Diabetes, Parkinsons and Cancer among others. For the manufacturing of functional beads a suitable bead generator is needed and for many applications the use of an electrostatic bead generator have been found to be the best choice. The instrument is designed for low scale production of small beads in a highly controllable manner. The use of a coaxial air flow bead generator may, however, also be a good alternative.
Coaxial gas flow bead generator
An easy way for production of small alginate beads in a controllable manner is the use of a coaxial-air-flow bead generator. The basic principle of the instrument is the use of a coaxial air stream which pulls droplets from a needle tip into the gelling bath. The instrument is suitable for production of spherical beads ranging in size down to around 600 µm.
Electrostatic Bead Generator
will often be the best alternative, in particular for applications involving small sample entrapment of living cells. The instrument is designed for production of beads ranging in size down to about 150 µm. The instrument utilizes an adjustable electrostatic voltage of a few kV between the nozzle and gelling bath in order to reduce the droplet size. Different nozzles are available for the choice of desired bead size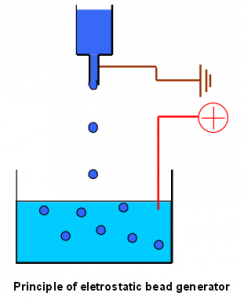 NovaMatrix offers a range of different grades of ultrapure alginates with low endotoxin levels suitable for use in cell encapsulation application.
In contrast to most other polysaccharide gels, alginate gels can develop and set at constant temperature. This unique property is particularly useful in applications involving fragile materials like cells or tissue with low tolerance for higher temperatures.
An alginate gel will develop instantaneously in the presence of divalent cations like Ca2+, Ba2+ or Sr2+ and acid gels may also develop at low pH. Gelling occurs when the divalent cations take part in the interchain ionic binding between guluronic acids blocks (G-blocks) in the polymer chain giving rise to a three dimensional network. Such binding zones between the G-blocks are often referred to as egg-boxes, and consequently alginates with a high content of G-blocks induce stronger gels. Gels made of M-rich alginate are softer and more fragile, and may also have a lower porosity. This is due to the lower binding strength between the polymer chains and to the higher flexibilities of the molecules.
Choice of alginate can have an impact on bead properties. Some of parameters that have been seen influencing the bead formation and size are G/M ratio, viscosity, concentration and flow rate. PRONOVA ultrapure and sterile alginate product range should give you the possibility to cover different options in cell encapsulations.
Visit our store to view different grades available
References:
[1] Controlling the size of alginate gel beads by use of a high electrostatic potential. Klokk TI, Melvik JE. J Microencapsul. 2002 Jul-Aug;19(4):415-24.
[2] J Microencapsul. 2006 Sep;23(6):613-21. Effect of alginate composition and gelling cation on microbead swelling. Darrabie MD1, Kendall WF, Opara EC.